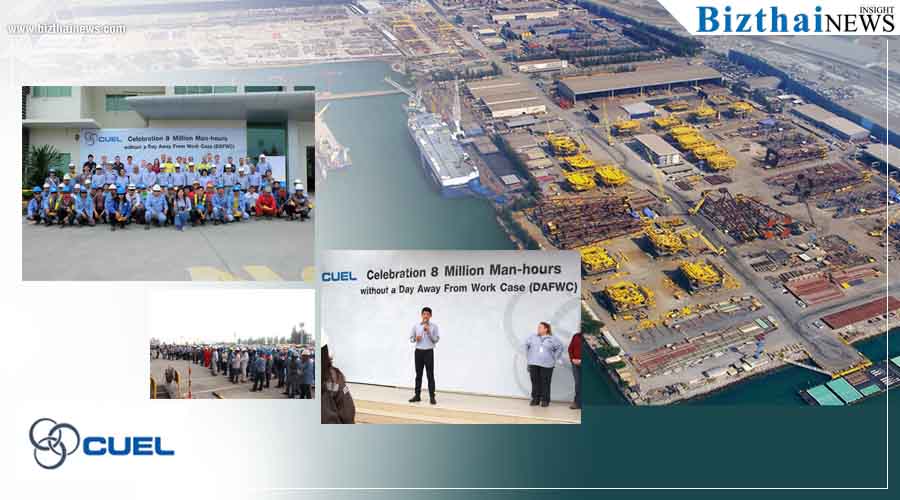 CUEL Celebrates 8 Million Man-hours without a Day Away From Work Case (DAFWC), Preparing to Run a New Long-term Project from the USA.
CUEL emphasizes its operation on international standardization, security and its business sustainability by supporting communities for education and social activities.
Khun Pairat Tivakornpannarai, Acting Managing Director CUEL LIMITED disclosed on 16 January 2019 that CUEL Laem Chabang Fabrication Yard held a celebration of 8 Million Man-hours without a Day Away From Work Case (DAFWC). The celebration was held by the company's Board of Directors, clients and executive committee, led by Khun Kiatichai Tadawachira, General Manager—Corporate, and Khun Christie Brown, General Manager—Operations, who have expressed their gratitude toward workers and thanked them for the collaboration which led to this success. In addition, the management team was invited to give souvenirs to the lucky-drawers to encourage them in working.
Moreover, CUEL is preparing to launch a new project—a steel construction having been built for about 2-3 years— from the USA. The project is expected to be concluded by the first quarter and operated in the second quarter this year.
CUEL has been a leading company on complete construction of offshore drilling platform and natural gas and oil transmission in Asia Pacific, co-invested by Chevron E&C which is one of the world's leading natural gas and oil companies and Unithai Shipyard and Engineering. More-importantly, CUEL aimed to be the leading partnership providing services of constructions for complete petroleum business in this region. Nowadays, the company holds approximately 60% of share-market from 3 domestic producers of drilling platforms—CUEL Co.,LTD, CLOUGH (Thailand) Co.,Ltd. from Australia and Thai-Nippon Steel Engineering and Construction Corporation Co,.Ltd. from Japan.
In the operation of every project of the company, international quality standard is emphasized such as ISO 9001: 2015, ISO 14001 2015, OHSAS 18001 2007, DIN EN ISO 3834, and DIN EN 1090. In addition, the company also places an importance on security standard for the trust among clients, employees and subcontractors who work together.
In operating of every project of CUEL, security always comes first as the main policy and throughout the years there has been good cooperation from executives, employees and partners. CUEL has systematic security management by dividing into IIF leaders and IIF policy monitoring committee as each day there are a lot of employees and workers coming for work at CUEL Laem Chabang Fabrication Yard. These workers are as important to their families as their families are to them, they always realize that they feel safe in every day of working.
Leadership is one of the most important factors in building CUEL's organizational safety culture. In 2006, Laem Chabung IIF Leader was established, and the changes have happened according to the growth of IIF. Nowadays, this leader group has been promoted to be IIF policy monitoring committee, and the deputy of IIF leaders have been set up to drive safety culture in foreman level.
The policy and security management system of CUEL is the system with safety operation policy according to legality. In addition, CUEL also focuses on operations that meet the needs of stakeholders in every sectors, including workers care, society, community and environment that CUEL takes part in its business for sustainable growth.
Khun Pairat further disclosed that apart from security and quality aspects, CUEL also continuously gives priority and support to education. Last year, CUEL collaborating with Unithai Shipyard and Engineering Limited granted 10 scholarships, 200,000 Baht in total, in the project Long-term Scholarship to support local youths living in 10 communities nearby CUEL and Unithai shipyard.
"Education is an important foundation to develop society and country to go forward sustainably. As the Unithai group has always been realized the importance of education, the Long-term Scholarship is arranged by focusing on the local youths living in 10 communities nearby. We believe that the scholarships can be a part of them to achieve success and better future."
The company has determined the basic qualifications as follows: Currently be a student in vocational college, high vocational college or university, with GPAX of no less than 2.75, good manners, good practice in educational outcomes, but have economic difficulties.
Khun Pairat added, "I'd like to congratulate all the youths winning the scholarships. Please concentrate on your study because having knowledge is like having property with you. Knowledgeable persons will have an advantage on occupation. Therefore, you, who have been granted the scholarships, please be noted that you are lucky to have an opportunity to fulfill your dream in order to achieve your desired future. When you are knowledgeable, you have to be a good, well-behave person and are ready to be a good adult in the future and an important part of the country. Unithai group will continuously support education so that youths can have a chance for complete development in knowledge, morality and mind. Apart from developing the youths, we bend upon being a part of creating Thai society to be a lifelong learning society. "
In addition to supporting education, CUEL realizes responsibility to the society by continuously supporting social activities both locally and nationally. CUEL supported and joined a number of activities as follows.
Participated in ECO Green Network
CUEL Co., Ltd. as a member of ECO Green Network under management of Laem Chabang Industrial Estate participated in a survey meeting and a study trip at a learning center on Sufficiency Economy Philosophy at Tambon Krachae, Na Yai Am District, Chanthaburi. At the learning center, Mr. Somsak Chaikerd, a local wisdom elite, described how to live his life sufficiently by adopting Sufficiency Economy Philosophy proposed by King Rama 9 who gave the idea of living and behaving of all level of people. Moreover, we had an opportunity to learn the model of smart organic farm as well.
National Children's Day 2019
CUEL Co., Ltd. took part on National Children's Day 2019 at Laem Chabang Industrial Estate, Wat Laem Chabang School, Wat Banna School and Laem Chabang City Municipality. This year CUEL provided scholarships to students with good practice in studying but economic difficulties, and students with good practice regarding studying areas in order to promote and support Thai youths in education and intelligence development, assertiveness in good manners and being good youths for the country. The motto for National Children's Day 2019 is given by Prime Minister General Prayut Chan-o-cha as "Children, Youths and Volunteers Join Forces in National Development."
Contributed Desk Calendars to Educational Technology Services Center for the Blind
CUEL Co., Ltd. arranged an event "Give Me Old Calendar" by putting an offertory box for old desk calendars gathered from workers from both in Bangkok office and Laem Chabung Yard. The total of 671 calendars were given to Educational Technology Services Center for the Blind, Foundation for the Blind in Thailand under the Royal Patronage of H.M. the Queen Nonthaburi, received by Chanidapa Petchrak, the Director of the Educational Technology Services Center for the Blind on 22 January 2019. All the old calendars will be used to create Braille desk calendars as teaching and learning media for the blind kids in schools for the blind.
Supporting Promotion and Development Fund for Sriracha Mass Media Association, Chonburi
Sriracha Mass Media association, Chonburi, organized "Sriracha Media Communication Association" or "Press Day", which takes place every year, on the 5th of March. The purpose of the event is to constantly support the relationship of the local journalists, informed sources, and other organizations in the areas. At this time, CUEL Limited., has participated in supporting promotion and development funding raising Sriracha Mass Media Association, Chonburi Province, together with Mr. Pakkaratorn Teainchai, Governor of Chonburi Province, as the ceremonial president, and Mr. Paiboon Sermsart, President of Sriracha Media Communication Association were representatives in the fund-raising ceremony.
The association will gather of the incomes in order that they will be spent for any events that the association organizes such as the Project of Accident Insurance for the Mass Media Press, the education fund for the descendants staring from the kindergarten to the university in order to support the highest level of education, support the education in the disadvantaged schools, etc.
The Annual Golf Tournament "CUEL Charity Classic 2018"
CUEL arranged the annual golf tournament "CUEL Charity Classic 2018" at Siam Country Club Plantation, Pattaya to fundraise for the Fountain of Life Center, which helps children with education and nutrition outreach and is run by Good Shepherd Foundation, Pattaya. After the competition, Mr. John Blyton, CUEL Senior Construction Manager, CUEL Laem Chabang Yard handed the donation fundraised from the tournament 1,500,000 Baht to the representatives of the foundation at Holiday Inn Hotel, Pattaya.
Organizing Math Camp in 2018 at Wat Laem Chabang School, Chonburi
CUEL Limited., has organized the math camp for the students from Grade 1 to 3 at Wat Laem Chabang School, Choburi in order to change the learning atmosphere outdoors by joining the learning bases, so the students can enjoy the activities from the volunteer instructors such as using mathematical symbols to compare numbers, telling time from a clock's hand, counting money, etc. The students acquired the experiences as well as new knowledge. This activity achieved its success with the association many volunteers from the Administration in Bangkok and Laem Chabang.
The math camp activity was part of the activities arranged for the community on the educational support of the local students, and the company constantly supports them every year.